Nabucco at Verona, where to...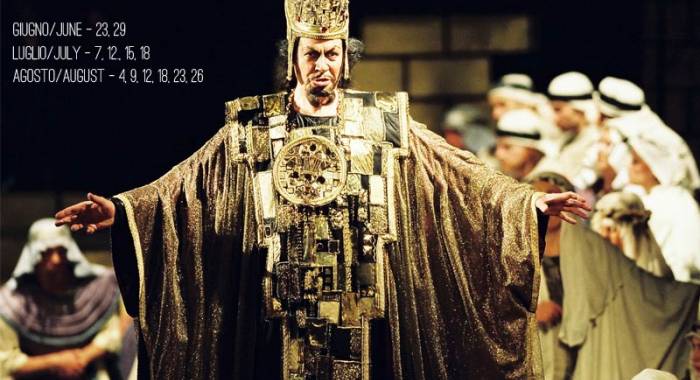 Nabucco at Verona, where to sleep for the Verdi's play which opens the lyric season in Arena 2017
Please note: past event
The slavery of a people as an emblem of a lost identity. All the references to the painful prayer and intensive of the 'Va' pensiero', reminds you only the Nabucco. This is the core of this compelling and also exceptional opera. It is accompained by the unforgettable Giuseppe Verdi's musical ability which will be able to entertain the guests of the Arena with the play for three and a half hours.
The Nabucco made its debute with a great success on March, 9th 1842 at La Scala in Milan but this year it will opening the lyric season in the Arena of Verona 2017 with a new production of this well known opera that presents a very stimulating plot: Jerusalem is beset by Nabucco, king of Babilon. Zacharias, the Grand Pontiff who kidnaps Fenena, Nabucco's daughter and use her as hostage. When the furious Nabucco arrives, Zaccaria is threatening to kill Fenena but Ismael, son of the King of Israel that secretly fell in love of her, manages to save Fenena and escorts her to father Nabucco, betraying his own people. For this reason, he is cursed by his people and also by Abigaille who believes herself as to be the daughter of Nabucco but, on the contrary, she is only a slave that loves Ismael too without being corresponded.
The opera is going to have up on stage for twelve evenings each of which will be surely an unforgettable stop into the Giuseppe Verdi's creative world that invites us to approach this opera with the knowledge that we are facing to the origin of the wonderful revolution called 'Verdiano theatre'.
Our country hotel b&b is the perfect place where you can book for Nabucco in Verona and also for the lyric season in Arena. You can find us less than 20 km from Verona, in one of the most peaceful places in the countryside of Verona.
See you soon!