Aida Opera Arena of Verona in...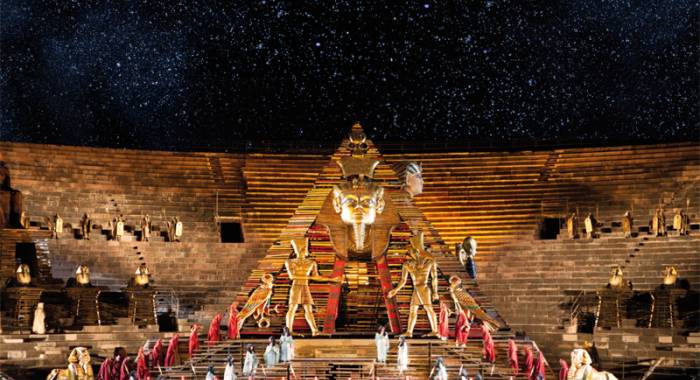 Aida Opera Arena of Verona in summer 2018
Please note: past event
If wewrite "Aida" you mean "Arena". This concept has been for 100 years.
"The queen of the summer" is going on stage into the program of the Arena Opera Festival in Verona, in 16 representations from June 23rd 2018. It will convey the arenian public's feelings through a great interpretative sensitivity and vocal perfection.
Aida has always been the greatest hit into these Roman stones. The spearhead among the Giuseppe Verdi's Operas will convey the philosophy of the Tuscany Master Franco Zeffirelli, director loved in Verona: "Drawing the music, make everyone understand it."
Whe are talking about a love story which is into another love story because we are touching the Zeffirelli's love for Aida and the fusion of this Opera in four acts with Verona city.
Zeffirelli's love for Aida, Aida's love for Verona, Verona's love for its countryside in which our country Relais b&b otto Ducati d'Oro is waiting for you in order to offer you the opportunity of refreshment after an evening spent in the city center and where we invite you to book you room for the summer season in Arena. You can find us only few kilometers from the Arena, in one of the most beautiful places of Verona countryside.