Sting in Verona after his...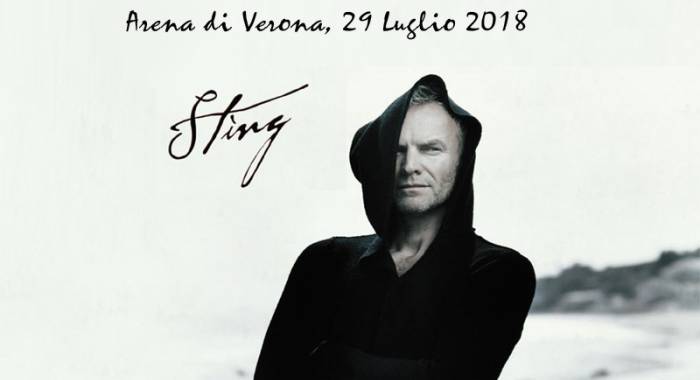 Sting in Verona after his show at the Sanremo Festival 2018
Please note: past event
We never tire of publishing news dedicated to the world of music, let alone hosting it is our monumental, historical and exciting Arena. The arena of Verona is unique: impeccable acoustics and great visual impact in Piazza Bra.
If we add to this a touch of uniqueness in more brushed by the presence of singer-songwriter and multi-instrumentalist Sting, the picture reaches the peak of perfection.
After participating as a super host at the Sanremo Festival 2018, Sting returns with a series of concerts in Italy and could not miss the date at the Arena: it will be in our marvelous amphitheater on July 29th 2018.
After the acclaimed album released in 2016- 57th & 9th, which marks a return to pop / rock for the artist after more than a decade, Sting is ready to publish together with Shaggy an album with a reggae flavor, entitled "44/876 ", next 20 April. The album is anticipated by the first single "Do not Make Me Wait", currently among the most downloaded singles on iTunes Italia and in the top15 of the ranking of the most programmed songs by Italian radio. Who knows, maybe you're lucky enough to hear it on the radio while you're catching up at Otto Ducati d'Oro, our country relais in Verona where your booked room awaits you to welcome you after the Sting concert in Verona Arena.
Book your room in time to be able to enjoy all the comforts that our relais b & b can offer you: from bike rental for trips to the rice paddies, to the fitness room to keep fit, to the full-bodied natural breakfast that makes everyone good mood, hydromassage showers with chromotherapy and memory foam mattresses and pillows. And it's not over here ...
What about a jump into the past of a big of the iinternational music through the video of Sting at the Arena of Verona - May 6th 1988 - the quality of the video is extraordinary because it's been 30 years since that day!