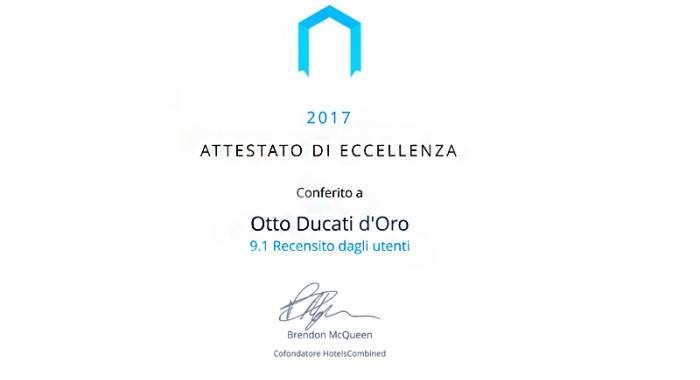 Otto Ducati d'Oro: one of the best hotel in 2017
We are very proud to share with you another important goal. In addiction to the Tripadvisor Excellence Award and Booking.com that both rewarded our hotel with a score of 9.4/10 in 2016, also HotelsCombined rewards us and considers Otto Ducati d'Oro among the best hotels for the satisfaction of the guests in 2017.
HotelsCombined is an Online-Platform that helps travellers when making a booking for a stay through the comparison of the availability and prices of the hotels there are on the best travel websites of the world (Booking.com, Expedia, Hotels.com, Agoda, AccorHotels, Hilton and much more) in order to book the best hotel at the best price in the quickest and easiest way possible. To establish Otto Ducati d'Oro's quality level, the analysis team of HotelsCombined carefully compared millions of reviews and opinions collected on the net. Our guests have written 140 opinions il 2017 on many different websites, forum and social media and they rewarded us with an average score of 9.1 on a maximum of 10. Thanks to the guests' reviews, Otto Ducati d'Oro stood among the 3% of the best hotels in Italy thanks to excellent deals and a top-qualitty customer service.
An immense thank you to all our guests that left their opinions about our Relais Otto Ducati d'Oro allowing us to receive these important awards! When working in receptivity, welcome and service are the most important values. Every day we comit ourselves to the utmost in order to assure to our guests not only a nice hotel with confortable rooms and clean spaces in which they can stay but also a familiar surrounding and a comfortable environment built on the courtesy of the staff and on the availability. Receiving these awards fills our heart with joy, because the primary goal of our work is to have our customers satisfied of their holiday.
Thanks a lot to all of you!