Nek, Pezzali, Renga's concert...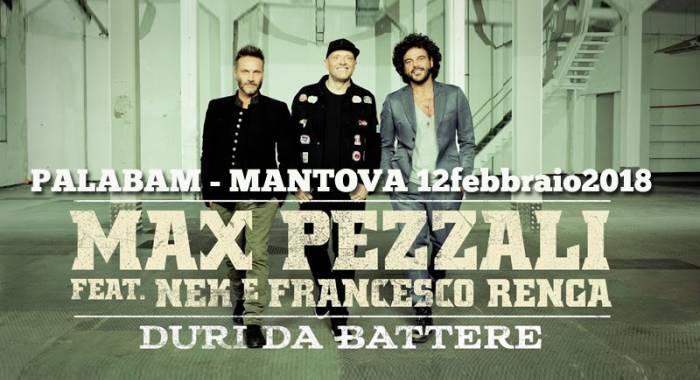 Nek, Pezzali, Renga's concert 2018 at Mantua Palabam in February
Please note: past event
Three friends. Three big artists. Three extraordinary careers: NEK. MAX. RENGA.
They are the main carachters of the the can't-miss tour will characterise 2018: since January 20th Max Pezzali, Nek and Francesco Renga are singing together on the stage of the main Italian Sports Palaces and the searchlights will turn on for them into Mantua Palabam on Monday, 12nd February.
They have been the soundtrack over generations: Max Pezzali sold over 7 millions of records. Nek has been the most played italian singer on the radios in the last year. Francesco Renga's carrer is defined by over 1850 concerts and in this tour they are going to start testing themselves once more! They will create a fabulous mix by joining their wonderful careers: the three protagonists of Italian Music, will be always together on the stage, throughout the duration of the show, recreating the most meaningful contents of everyone's over 25 years of career.
In Isola della Scala, everybody is abuzz for this event that awakens our most beautiful memories of '80s and '90s. We too, at our country relais Otto Ducati d'Oro are looking forward to Nek, Pezzali and Renga's concert in Mantua. Meanwhile we invite you to see our themed rooms and contatct us to book yours for this special event.