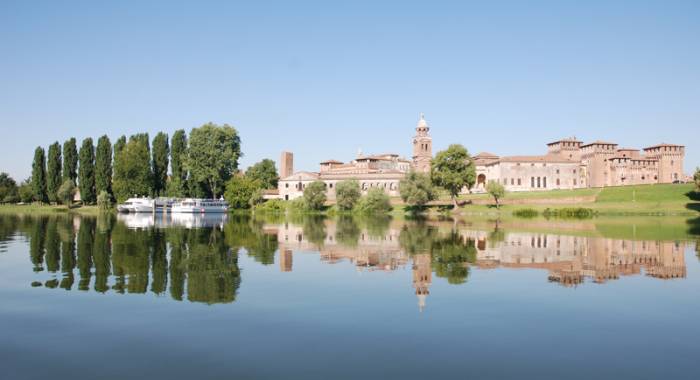 Ecotourism and hiking on the Mincio Valleys Nature Reserve by con solar-powered ferry
Mantua is not only the "capital of Culture" but it is also a city full of history, traditions, architecture and "natural elements". Mantua is bordered by three lakes: the Lago Superiore (Lake Superior), the Lago di Mezzo (Middle Lake) and the Lago Inferiore (Lower Lake) that are being formed by the water from Mincio river which arose from Garda Lake.
The three lakes are navigable and are divided among them by three bridges. The lakes allow tourists and citizens to enjoy the edge of the city, its towers and bell towers and its churches that seem to appear on the surface magically, especially when you see them from the motor vessels sailing towards Mincio Valleys Nature Reserve.
Between the different "low environemntal impact" ferries, "Enigma" is the first solar-powered ferry with afuturistic design that can combine the needs of tourists to the ones on protection and respect of environment.
Also for leaving the Nature Reserve calm, the ferry is moved by two electric engines powered by a photovoltaic plant that can gather the sun's energy and recharge batteries.
As well as being a great teaching tool and a suggestive leisure opportunity, Enigma can carry passengers both on the lower fllor where there are the seats and upper floor where they can admire the beauty of Mincio Valleys, in its entire extended sense. Furthermore, the ferry is provided with a resealable covering that allow the ferry to continue its sailing even in the case of bad weather. Enigma is also provided with a broadcasting system that gives many information in many languages about the surroundings environment to the guests.
As the sole means to explore Mincio Valley, the ferries represent the commitment to the environment and assure a real meeting with nature in order to offer beautiful river excursions event during full moon nights in the Rreserve. For more informations, prices and times, we invite you to see the website http://www.navigazionemincio.it.
Our country hotel b&b lies in province of Verona and it is in perfect line with the "green atmoshpere" of the Mantua Natural Reserve. Since the restructuring of the country hotel in 2010, we have favore the enhancement of the ecotourism including thorugh the realization of structural adjustments such as a better thermal insulation with dual-chamber window glasses; a ventilated roof made with certified timber and the installation of photovoltaic plants, external insulation; separate collection of waste and the use of energy-saving light bulbs.
To stay in an eco-sustainable location that lies only few chilometers from the Mincio Park where you can hike on the Natural Reserve, we invite you to a contact Otto Ducati d'Oro to book your themed room.