Christmas markets in Verona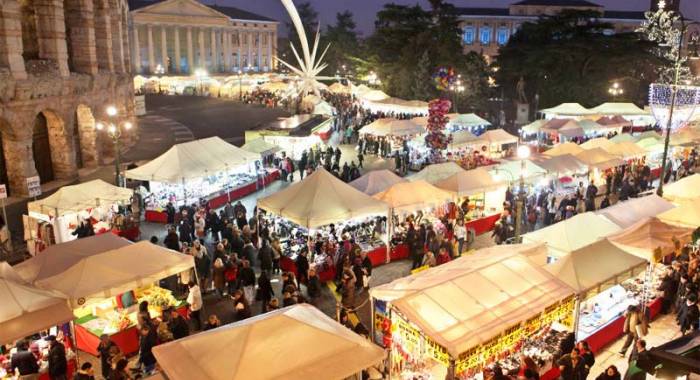 Christmas markets in Verona
Please note: past event
Suggestion and tradition coexist in Verona on the occasion of the Christmas Markets, which are distributed in Piazza dei Signori and in various streets of the Center. The 80 Christmas Market houses offer food and wine specialties, handicrafts and many gift ideas and Christmas decorations in glass, wood and ceramics. From November 16th to December 26th 2018 in Piazza dei Signori you can visit the now traditional Christkindlmarkt of Nuremberg, now in its 11th edition.
Also in Piazza Bra, at the Palazzo della Gran Guardia, will be held the 35th International Festival of the Crib from 25 November 2018 to 20 January 2019, a tradition of the city of Verona.
Another important event will be Christmas in Arsenale, at the former Austrian Arsenal, which will be held in mid-December; even if the exact dates have not yet been announced, the participation of more than a hundred artisans and associations has already been confirmed.
From 10 to 13 December in Piazza Bra there will also be the Banquets of Santa Lucia. A traditional market on the occasion of the feast of Saint Lucia where over 300 peddlers sell sweets, typical products and gift items. "The Banchéti de Santa Lussia" are dedicated to Santa Lucia, a Sicilian Santa who lived at the end of the third century. According to the Veronese tradition, on the night between December 12th and 13th, accompanied by his donkey and Gastaldo, he brought sweets and toys to the good children and pieces of coal to the bad ones.
Our invitation and advice is to contact our country relais Otto Ducati d'Oro in Isola della Scala, a few kilometers from the center of both Verona and Mantua, and book your room to not miss the opportunity to participate in traditional 2018 Christmas markets in Verona.