Opens the curtain for the...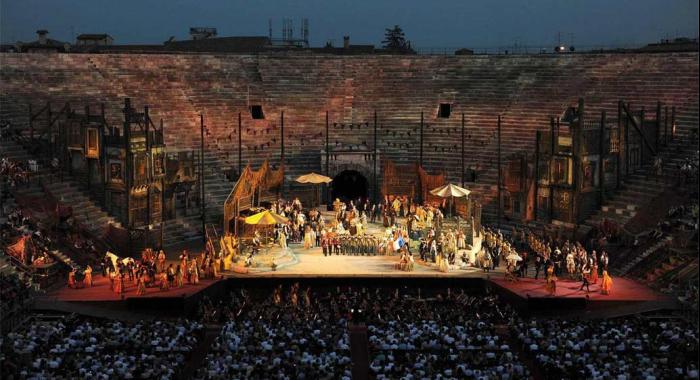 Opens the curtain for the opera season with the shows at the Arena in 2016 and beyond
Please note: past event
With the opening of the summer season there are many events in Verona, such as concerts and exhibitions able to arise strong emotions in one of all us, for example the famous lyric operas proposed in the wide program of events at the Arena of Verona, at the Teatro Filarmonico and Teatro Ristori and also at the Teatro Romano.
From June 24th till August 28, 2016, will tread the stage of the Arena the most famous operas such as "Carmen", "Aida", "La Traviata", "Turandot", juxtaposed to dance performances with recognized dancers worldwide like our countryman Roberto Bolle.
The Philarmonic Theatre "tinges with Russia" with dance evenings dedicated to Stravinsky's works and philharmonic concerts. At Roman Theatre, in addition to the traditional prose, dance and music, that for years have contradistinguished its stage, 2016 is the pivotal year that adds, to these three arts, a fourth one, the cinema, different films all inspired to Shakespeare, in the anniversary of the 400 years after his death.
So, evening of prose with particular refer to William Shakespeare that bring to life some of the best works of the english playwright and poet such as "Julius Caesar", "As You Like It" and the evergreen "Romeo and Juliet".
The prose in the form of performances, intercalated by musical evenings and dance exhibitions with masterpieces such as "Romeo and Juliet", with the music of Prokofiev, starring by the Ballet du Grand Théâtre de Genève.
In such a scenery so rich of history, art and entertainment, our Relais proposes itself like the artistic, elegant and hospitable accomodation, nestling in the emerald green countryside of Verona at Isola della Scala, the nerve center at a few kilometers from Verona and Mantua.
We invite you to enter in contact with our Relais to better organize your stay and overnight and choose which of our eleven themed rooms is perfect for you, in order to offer you the opportunity to immerge yourself in the relaxing atmosphere of our refined Realis Otto Ducati d'Oro.